Guide to Collecting American Gold Eagle Coins
The American Gold Eagle was first issued in 1986 as the official gold bullion coin of the United States of America. The coins were authorized by Congress, under the American Eagle Bullion Program, as a method for investors to conveniently and cost effectively purchase precious metals. The weight, content, and purity of of Gold Eagles are guaranteed by the U.S. Government.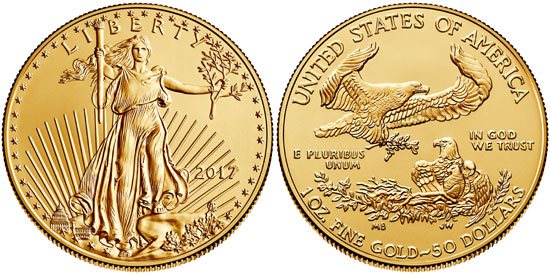 Gold Eagle Type 1 and Type 2 Designs
The original Type 1 obverse design for the series is based on the Augustus Saint-Gaudens Double Eagle, introduced into circulation in 1907. The iconic allegorical Liberty figure is portrayed striding forward with a torch in her right hand and olive branch in her left. The reverse of the Type 1 coin was designed by Miley Frost (Busiek) and features a male eagle bringing an olive branch to a nest of eagle hatchlings and female eagle. Frost originally created a sculpture based on this Family of Eagles design, which was selected as the official commemorative for Reagan's first inaugural.
Graphic illustrator and artist Jennie Norris was selected to join the Artistic Infusion Program in July 2019. Her very first design for a U.S. coin was selected only a little over a year after she joined the AIP and was unveiled in October 2020. Norris' Eagle Portrait design was to be the new reverse Type 2 design of the iconic American Gold Eagle issued on all versions of that coin mid-2021 and moving forward. Out of 39 other design submissions, Norris had an outright advantage having previously handled raptors where she had the opportunity to see birds up close.
Bullion and Collectible Gold Eagles
Since the launch of the series, different versions of Gold Eagle coins have been offered for investors and collectors. The bullion coins carry a standard finish and are considered to be precious metals investment coins. These are not sold directly to the public, but are distributed through a network of authorized purchasers. This network provides efficient distribution as well as a two way market for the bullion coins.
Proof Gold Eagles have been offered to investors and coin collectors since 1986. These gold coins are manufactured through a specialized minting process, which includes multiple strikes with specially prepared dies to create a high quality finish. Proof coins generally display a cameo finish, where raised elements of the design are frosted and the background fields are mirrored. In 2006 the U.S. Mint issued a special reverse proof Gold Eagle, which features the opposite effect.
In more recent years, the U.S. Mint has offered a second numismatic version for collectors. These collectible uncirculated coins are struck on specially burnished blanks resulting in a finish similar to the bullion version. However, the coins contain the "W" mint mark on the obverse for clear differentiation. This version was offered from 2006 to 2008, canceled for two years, and then resumed from 2011 to present.
Four Different Denominations
Since 1986, American Gold Eagle Coins have been offered in four different sizes. The most popular size contains one troy ounce of gold content, with the remaining three options containing a standard fractional weight. Each size contains a different legal tender face value.
1 ounce: $50 face value
1/2 ounce: $25 face value
1/4 ounce: $10 face value
1/10 ounce: $5 face value
All four denominations have been offered as bullion versions since the series was launched in 1986. Proof coins were initially only available in the 1 ounce size. In the second year of issue the 1/2 ounce size was added. In the third year, the remaining 1/4 and 1/10 ounce sizes were offered as proofs. The collectible uncirculated versions of the coins were initially offered in all denominations from 2006 to 2008. From 2011 to present, only the one ounce size has been issued. Explore the Gold American Eagle mintage data for each year and denomination.
Composition and Specifications
Gold Eagles are struck with a durable composition of 22 karat gold. The composition is comprised of 91.67% gold, 3% silver, and 5.33% copper. Coins are produced so that each size contains its stated weight in pure gold.
The one ounce coin is 1.287 inches in diameter, has a weight of 1.0909 ounces, and contains on ounce of gold. The one-half ounce coin measures 1.063 inches in diameter, has a weight of 0.5455 ounces, and contains 0.5000 ounces of gold. The one-quarter ounce coin is 0.866 inches in diameter, weighs 0.2727 ounces, and contains 0.2500 ounces of gold. The one-tenth ounce coin is 0.650 inches, weighs 0.1091 ounces, and contains 0.100 ounces of gold.
NGC and PCGS Certified Gold Eagles
Many collectors assemble sets of coins which are encapsulated and graded by third party grading companies such as PCGS and NGC. The top graded coins command significant premiums above intrinsic value. These two grading services have certified millions of modern Gold Eagles.
NGC is the official coin grading service of MyCoinGuides.com. Click here for more information on joining NGC for coin authentication and grading services. NGC alone has graded nearly 2 million Gold Eagles. In November 2022 they announced an exciting exclusive signature program with Miley Frost (Busiek), the designer of the Type 1 Gold Eagle reverse. Phoenix-based dealer, Coin Advisor, is managing the Miley Frost (Busiek) signature program.