The 1991 Gold Eagle (Buy on eBay) was released as the fifth year in the series of 22 karat gold bullion coins from the United States Mint. The obverse design of the coins featured the classic image of Liberty from the Saint Gaudens Double Eagle, while the reverse design featured a family of eagles by Miley Busiek. The coins were available across a range of four different sizes, each with a different legal tender face value.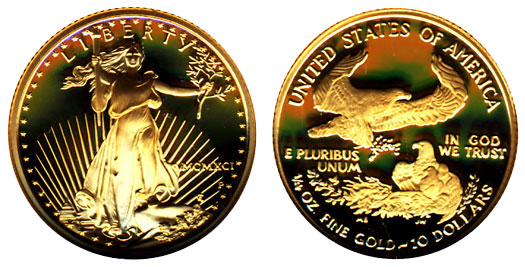 Notably, this year represented the final year that the date included on the obverse of the American Gold Eagle would be expressed in Roman numerals. In subsequent years, the date would be shown in Arabic numerals.
Following with tradition, the U.S. Mint produced the 1991 Proof Gold Eagle (Buy on eBay) coins for collectors. The U.S. Mint offered each proof coin as an individual option or as part of a complete 4 Coin Proof Set. By this year, mintages for the proof coins had begun to stabilize. The early years of the series were marked by heavy pent up demand, which had finally subsided to core demand with fluctuations based on the changing price of gold.
During 1991, the price of gold spiked above the $400 per ounce level in January, only to spent the rest of the year languishing in the $350-$370 range. The cumulative average price of gold for 1991 was $362.11 per ounce.
1991 Gold Eagle Specifications
Date: MCMXCI (1991)
Mint Mark: none (bullion), W ($50 proof), P ($25, $10, $5 proof)
Composition: 91.67% gold, 3% silver, 5.33% copper
Weight ($10 Coin): 0.2727 troy oz (8.483 grams)
Diameter ($10 Coin): 0.866 inches (22.0 mm)
Thickness ($10 Coin): 0.070 inches (1.78 mm)
Designers: Augustus Saint-Gaudens (obverse), Miley Busiek (reverse)
1991 Gold Eagle Mintages
Bullion Mintage: 243,100 (1 oz), 24,100 (1/2 oz), 36,100 (1/4 oz), 165,200 (1/10 oz)
Proof Mintage: 50,411 (1 oz), 53,125 (1/2 oz), 50,839 (1/4 oz), 70,334 (1/10 oz)

< 1990 Gold Eagle | 1992 Gold Eagle >