With the 1994 Gold Eagle (Buy on eBay), the 22 karat gold bullion coin series entered its ninth year of issue.The obverse of each coin featured Augustus Saint-Gauden's stunning rendition of Liberty striding forward with an olive branch and torch and the rays of the rising sun behind. The reverse depicted a male eagle returning to a nest with a female eagle and nestlings, designed by Miley Busiek.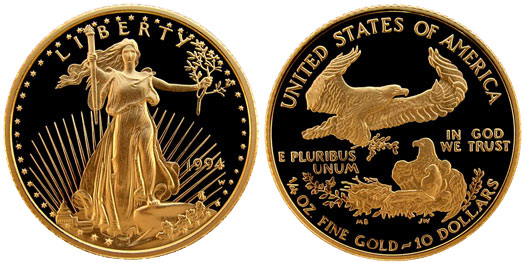 The year was marked by relatively flat performance from the price of gold, which curtailed some of the interest in precious metals. Mintages for bullion coins receeded to lower levels. The United States Mint offered bullion coins in 1 oz, 1/2 oz, 1/4 oz, and 1/10 oz sizes.
The 1994 Proof Gold Eagle (Buy on eBay) saw an interesting shift. In prior years, the 1 oz. proof coins were produced at the West Point Mint, while the smaller denominations were produced at the Philadelphia Mint. Starting with 1994, all denominations of the Proof Gold Eagle would be minted at West Point and carry the "W" mint mark.
During 1994, the price of gold traded tightly between a range of $370 to $395 per ounce. The cumulative average price of gold for the year was $384 per ounce.

1994 Gold Eagle Specifications
Date: 1994
Mint Mark: none (bullion), W (proof)
Composition: 91.67% gold, 3% silver, 5.33% copper
Weight ($10 Coin): 0.2727 troy oz (8.483 grams)
Diameter ($10 Coin): 0.866 inches (22.0 mm)
Thickness ($10 Coin): 0.070 inches (1.78 mm)
Designers: Augustus Saint-Gaudens (obverse), Miley Busiek (reverse)
1994 Gold Eagle Mintage

Bullion Mintage: 221,663 (1 oz), 62,400 (1/2 oz), 72,650 (1/4 oz), 206,380 (1/10 oz)
Proof Mintage: 46,674 (1 oz), 44,584 (1/2 oz), 48,172 (1/4 oz), 62,849 (1/10 oz)

< 1993 Gold Eagle | 1995 Gold Eagle >