The 1987 Gold Eagle (Buy on eBay) was second year of release for the new gold bullion coin. This year the bullion coins were available continuously throughout the year. In the prior year, the coins had only been available for the final three months. Despite a longer sales period, Gold Eagle bullion sales did not reach the high levels achieved in the prior year. Once again, the United States Mint produced a full range of fractional weights to accommodate different investment sizes.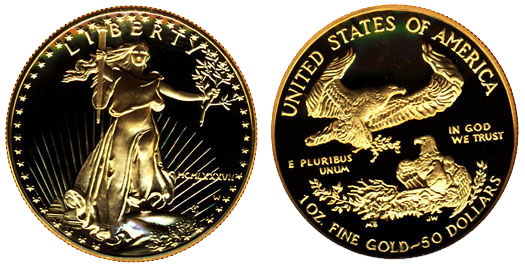 The 1987 Proof Gold Eagle (Buy on eBay) saw its offerings expanded from the prior year. Instead of just the one ounce coin, this year the U.S. Mint also produced the one-half ounce coin in proof version. In the following year, the range of Proof Gold Eagles would be expanded to cover all fractional denominations. For 1987, the one ounce proof coin carried the "W" mint mark for West Point, while the one-half ounce proof coin carried the "P" mint mark for Philadelphia.
During 1987, the price of gold moved steadily upwards. It began the year at $403.50 and closed the year at $484.10. In December, the price of gold reached a high of $499.75.
1987 Gold Eagle Specifications
Date: MCMLXXXVII (1986)
Mint Mark: none (bullion), W (one ounce proof), P (one-half ounce proof)
Composition: 91.67% gold, 3% silver, 5.33% copper
Weight ($50 Coin): 1.0909 troy oz (33.930 grams)
Diameter ($50 Coin): 1.287 inches (32.7 mm)
Thickness ($50 Coin): 0.113 inches (2.87 mm)
Designers: Augustus Saint-Gaudens (obverse), Miley Busiek (reverse)
1987 Gold Eagle Mintage
Bullion Mintage: 1,045,500 (1 oz), 131,255 (1/2 oz), 269,255 (1/4 oz), 580,266 (1/10 oz)
Proof Mintage: 147,498 (1 oz), 143,398 (1/2 oz)

< 1986 Gold Eagle | 1988 Gold Eagle >