The 1989 Gold Eagle (Buy on eBay) was the fourth year for the gold bullion and collectible gold coin series. Bullion coins continued to be available in a range of four sizes, each containing a different stated weight in 22 karat gold. Sales levels for the bullion 1 oz and 1/2 oz coins moderated from the prior year, while the 1/4 oz and 1/10 oz coins experienced increases.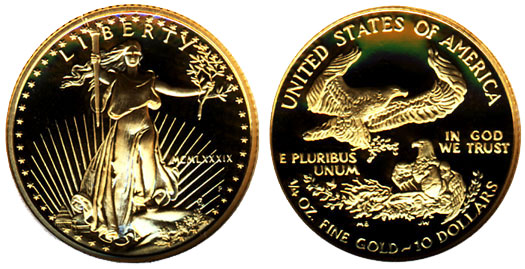 The United States Mint produced a complete line of 1989 Proof Gold Eagle (Buy on eBay) coins for coin collectors. This was the second year that all denominations were offered in proof version. Sales and resulting mintages showed declines for every denomination, particularly the 1/4 oz and 1/10 oz coins, which had experienced heavy demand for the first year of offering in the prior year. The $50 Proof Gold Eagle (1 oz) was minted at the West Point mint and carried the "W" mint mark. The remaining denominations were minted at the Philadelphia Mint and carry the "P" mint mark.
During 1989, the price of gold spent much of the year below the $400 per ounce level, although brief spikes briefly brought the price above the key level in January, November, and December. The average price of gold for the year was $381.44.
1989 Gold Eagle Specifications
Date: MCMLXXXIX (1989)
Mint Mark: none (bullion), W ($50 proof), P ($25, $10, $5 proof)
Composition: 91.67% gold, 3% silver, 5.33% copper
Weight ($10 Coin): 0.2727 troy oz (8.483 grams)
Diameter ($10 Coin): 0.866 inches (22.0 mm)
Thickness ($10 Coin): 0.070 inches (1.78 mm)
Designers: Augustus Saint-Gaudens (obverse), Miley Busiek (reverse)
1989 Gold Eagle Mintage

Bullion Mintage: 415,790 (1 oz), 44,829 (1/2 oz), 81,789 (1/4 oz), 264,790 (1/10 oz)
Proof Mintage: 54,570 (1 oz), 44,798 (1/2 oz), 54,170 (1/4 oz) 84,647 (1/10 oz)

< 1988 Gold Eagle | 1990 Gold Eagle >