The 2006 Gold Eagle (Buy on eBay) marked an important milestone for the series. This year was the twentieth year of release for the popular gold bullion and collector coin offering. Sales of the regular bullion coins were not impacted by the occasion, however the United States Mint did offer special sets for collectors as well as introduce a new versions of the coin featuring an uncirculated finish.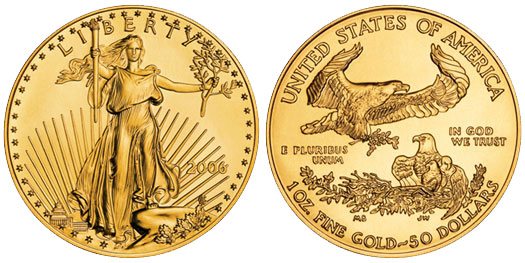 The new collector version of the coin was the 2006-W Uncirculated Gold Eagle (Buy on eBay). This was marketed as a collectible uncirculated version of the coin, struck on specially burnished blanks. The coins also carried the "W" mint mark to further differentiate them from the bullion version of the coin. A full range of coins in 1 oz, 1/2 oz, 1/4 oz, and 1/10 oz sizes were sold individually, or as a 4 Coin Set. These new coins were also incorporated into some of the special anniversary sets.
Anniversary Set
The 20th Anniversary Gold Eagle Set was offered by the U.S. Mint beginning on August 30, 2006. This three coin set contained the one ounce proof coin, the new one ounce uncirculated coin, and a special one ounce reverse proof coin. The set was limited to 10,000 units and sold out promptly. A separate 20th Anniversary Gold and Silver Eagle Set was offered, which contained one ounce uncirculated versions of the 2006 Gold Eagle and 2006 Silver Eagle. This set sold out of the maximum 20,000 units after a few months.
Amidst the new version of the coin and special sets, the traditional 2006 Proof Gold Eagle (Buy on eBay) was offered across the standard options. This included individual 1 oz, 1/2 oz, 1/4 oz, 1/10 oz coins, and the 4 Coin Proof Set. Even though the number of different Gold Eagle coins produced for collectors was greatly expanded, the regular proofs still remained within the typical sales range.
Separately during the year, the U.S. Mint introduced another gold bullion coin, which would be offered in addition to the existing line of American Gold Eagles. The American Gold Buffalo was launched on June 22, 2006, available in one ounce bullion or proof versions. Coins were struck in 24 karat gold, as opposed to the 22 karat composition of Gold Eagles, and featured the classic design from the Buffalo Nickel.
During 2006, the price of gold experienced a sharp spike in the second quarter, followed by a decline into a middle range. The price of gold began the year at $530 per ounce, spiked above $700 per ounce and then closed the year at $632.00.
2006 Gold Eagle Specifications
Date: 2006
Mint Mark: none (bullion), W (proof and uncirculated)
Composition: 91.67% gold, 3% silver, 5.33% copper
Weight ($50 Coin): 1.0909 troy oz (33.930 grams)
Diameter ($50 Coin): 1.287 inches (32.7 mm)
Thickness ($50 Coin): 0.113 inches (2.87 mm)
Designers: Augustus Saint-Gaudens (obverse), Miley Busiek (reverse)
2006 Gold Eagle Mintages

Bullion Mintage: 237,510 (1 oz), 66,005 (1/2 oz), 60,004 (1/4 oz), 285,006 (1/10 oz)
Proof Mintage: 47,092 (1 oz), 34,322 (1/2 oz), 36,127 (1/4 oz), 47,277 (1/10 oz)
Burnished Mintage: 45,053 (1 oz) 15,164 (1/2 oz), 15,188 (1/4 oz), 20,643 (1/10 oz)

< 2005 Gold Eagle | 20th Anniversary Set >