The 2012 Gold Eagle (Buy on eBay) went on sale to the United States Mint's network of authorized purchasers on January 3, 2012. On this date, the one ounce sized coins as well as the three fractional sizes were all made available. This represented a change from the prior two years when the fractional weight coins had been released on a later date, separately from the one ounce coins.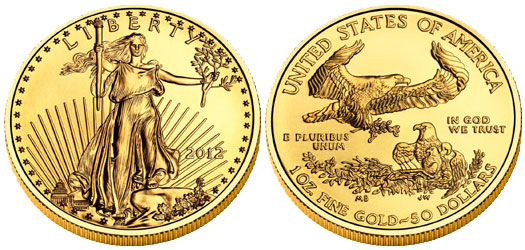 For the third year in a row, demand for the Gold Eagle bullion coins marked a decline. Sales had reached a recent peak in 2009 when more than 1.4 million ounces worth of the coins were sold. For 2012, sales had measured 753,000 ounces across the four different sized coins.
Proof Coin
On April 19, 2012, the U.S. Mint began sales of the 2012 Proof Gold Eagle (Buy on eBay) across the standard range of sizes. These numismatic versions are produced through a minting process which utilizes specially prepared dies and blanks to create sharply struck coins with a cameo finish. The available product options included individual one ounce, half ounce, quarter ounce, and tenth ounce coins, with a four coin set option also available. The Mint reduced the product limits from 15,000 to 10,000 for the individual half ounce, from 16,000 to 12,000 for the quarter ounce, from 30,000 to 25,000 for the tenth ounce, and from 40,000 to 30,000 for the four coin set.
Sales for the proof coins were sharply lower compared to the prior two years, and accordingly the U.S. Mint did not produce the coins to the full extent of the maximum mintage levels. The individual half ounce coin sold out in mid-November at a surprisingly low level. The other individual options would sell in early in January 2013, eventually followed by the four coin set option in February. At the time each coin established a new mintage low or the respective denomination in proof format.
Uncirculated Coin
On June 28, 2012, the Mint released the 2012-W Uncirculated Gold Eagle (Buy on eBay), representing a second numismatic version for collectors. These coins were struck on specially burnished blanks and carried the "W" mint mark. The product was previously released from 2006 to 2008 in the full range of sizes. After a two year gap in production, the offering was resumed in 2011, but available only in one ounce size.
Sales for the uncirculated coin progressed slowly, and an unexpected sell out occurred in November 2012. With a final audited mintage of just 5,829 pieces, this issue became the lowest mintage coin of the entire series across all bullion and numismatic issues.
During 2012, the market price of gold ranged from a low of $1,540 to a high of $1,791.50 per ounce. The cumulative average price for the year was $1,668.98.
2012 Gold Eagle Specifications
Date: 2012
Mint Mark: none (bullion), W (proof and uncirculated)
Composition: 91.67% gold, 3% silver, 5.33% copper
Weight ($50 Coin): 1.0909 troy oz (33.930 grams)
Diameter ($50 Coin): 1.287 inches (32.7 mm)
Thickness ($50 Coin): 0.113 inches (2.87 mm)
Designers: Augustus Saint-Gaudens (obverse), Miley Busiek (reverse)
2012 Gold Eagle Mintage

Bullion Mintage: 675,000 (1 oz), 43,000 (1/2 oz), 90,000 (1/4 oz), 290,000 (1/10 oz)
Proof Mintage: 23,630 (1 oz), 12,809 (1/2 oz), 13,775 (1/4 oz), 20,740 (1/10 oz)
Burnished Mintage: 5,829

< 2011 Gold Eagle | 2013 Gold Eagle >