The United States Mint produced the 1992 Gold Eagle (Buy on eBay) for the seventh year of the popular gold bullion and collector coin series. The bullion coins were offered in 1 oz, 1/2 oz, 1/4 oz, and 1/10 oz sizes. Mintages showed a slight uptick compared to the previous year, when sales had fallen to a brief low for the series. Of note, this year marked the switch from expressing the dates for American Gold Eagle coins as Roman numerals to Arabic numerals.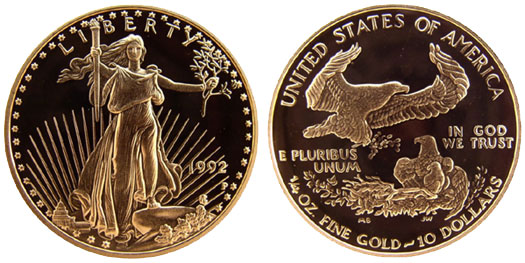 The 1992 Proof Gold Eagles (Buy on eBay) showed slight declines in sales across the board. The U.S. Mint offered individual versions of each coin, as well as a four coin set which contained one of each coin. The 1 oz. Proof Gold Eagle was minted at the West Point Mint, while the fractional denomination Proof Gold Eagles were minted at the Philadelphia Mint.
For 1992, the price of gold spent most of the year in a range of $335 to $350 per ounce with some brief spikes higher and a dip lower near year end. Gold finished the year at $332.90 per ounce and had a cumulative average price of $343.82 for the year.
1992 Gold Eagle Specifications
Date: 1992
Mint Mark: none (bullion), W ($50 proof), P ($25, $10, $5 proof)
Composition: 91.67% gold, 3% silver, 5.33% copper
Weight ($10 Coin): 0.2727 troy oz (8.483 grams)
Diameter ($10 Coin): 0.866 inches (22.0 mm)
Thickness ($10 Coin): 0.070 inches (1.78 mm)
Designers: Augustus Saint-Gaudens (obverse), Miley Busiek (reverse)
1992 Gold Eagle Mintage
Bullion Mintage: 275,000 (1 oz), 54,404 (1/2 oz), 59,546 (1/4 oz), 209,300 (1/10 oz)
Proof Mintage: 44,826 (1 oz), 40,976 (1/2 oz), 46,269 (1/4 oz), 64,874 (1/10 oz)

< 1991 Gold Eagle | 1993 Gold Eagle >