As the price of gold continued steadily upwards, the 2003 Gold Eagle (Buy on eBay) experienced renewed interest. The bullion and collector coins featured the stunning depiction of Liberty from the Saint Gaudens Gold Double Eagle on the obverse and a depiction of a family of eagles designed by Miley Busiek on the reverse. The mintages showed an increase for all 2003 issued bullion coins, with nearly double the mintage for the one ounce coin as compared to the prior year.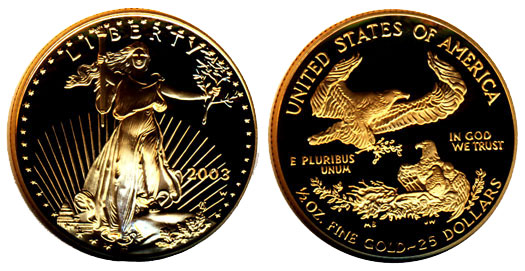 On the collector side, the United States Mint began sales of the 2003 Proof Gold Eagle (Buy on eBay) coins on May 13, 2003. Prices for the coins were increased from the prior year as a result of the higher prevailing price of gold. The one ounce coin was priced at $630 with a limit of 8,000; the one-half ounce coin was priced at $315 with a limit of 8,000; the one-quarter ounce coin was priced at $165 with a limit of 10,000; and the one-tenth ounce coin was priced at $85 with a limit of 25,000. A 4 Coin Set which contained one of each coin was also offered at $1,098 with a product limit of 21,000. All collectible proof coins were produced at the West Point Mint and carried the "W" mint mark. Before this year, the last price adjustment had taken place in 1998.
During 2003, the price of gold broke above the $400 level, after clearing the $300 level in the prior year. After beginning the year at $343.80 per ounce, gold would finish the year at $416.25, representing a gain of more than 20%.
2003 Gold Eagle Specifications
Date: 2003
Mint Mark: none (bullion), W (proof)
Composition: 91.67% gold, 3% silver, 5.33% copper
Weight ($25 Coin): 0.5454 troy oz (16.965 grams)
Diameter ($25 Coin): 1.063 inches (27.0 mm)
Thickness ($25 Coin): 0.085 inches (2.15 mm)
Designers: Augustus Saint-Gaudens (obverse), Miley Busiek (reverse)
2003 Gold Eagle Mintage
Bullion Mintage: 416,032 (1 oz), 79,029 (1/2 oz), 74,029 (1/4 oz), 245,029 (1/10 oz)
Proof Mintage: 28,344 (1 oz), 28,270 (1/2 oz), 30,292 (1/4 oz), 40,027 (1/10 oz)

< 2002 Gold Eagle | 2004 Gold Eagle >