The United States Mint opened sales for the 2015 American Gold Eagle (Buy on eBay) bullion coins on January 5, 2015. On this date, authorized purchasers were able to order the 2015-dated gold bullion coins across one ounce, one-half ounce, one-quarter ounce, and one-tenth ounce sizes in unrestricted quantities.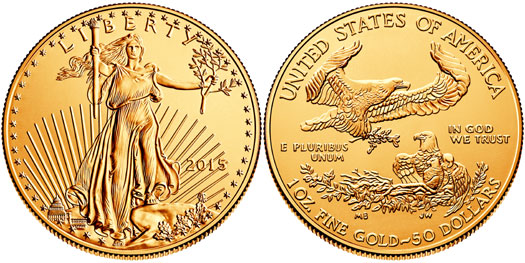 During the first month of availability, orders were placed for 51,500 one ounce, 18,000 one-half ounce, 36,000 one-quarter ounce, and 115,000 one-tenth ounce coins. Collectively, this represented 81,000 troy ounces of precious metal content. The opening month sales came in below the prior year level, when 91,500 ounces had been sold.
Bullion Coin
Despite the initially slower start, gold bullion sales would pick up in the second half of the year, corresponding with a drop in the market price of gold. By the end of the year, Gold Eagle bullion sales had reached 801,500 ounces, representing a 52.81% increase compared to the prior year.
Proof Coin
On March 12, 2015, the U.S. Mint began sales of the 2015 Proof Gold Eagle (Buy on eBay) products. As in prior years, the line up included individual versions of the proof one ounce, one-half ounce, one-quarter ounce, and one-tenth ounce coins, as well as a four coin proof set. As a change from prior years, the U.S. Mint did not establish product or mintage limits, instead indicating that customer demand would determine the number of coins produced.
Uncirculated Coin
On April 30, the U.S. Mint offered the 2015-W Uncirculated Gold Eagle (Buy on eBay). This represented a collectible uncirculated version of the coin struck on a specially burnished blank and carrying the "W" mint mark. This version of the coin was offered in one ounce size only, with production based on customer demand.
Total sales for the Proof Gold Eagles came in slightly above the levels of the prior year for all product options. The Uncirculated Gold Eagle experienced lower sales, but remained above the mintage low established in 2012.
Reeding Variations
Also of note, early in the year coin grading company NGC identified two different types of reeding on the one-tenth ounce gold bullion coins. The coins described as "Wide Reeds" represented the standard sized reeding used in production in recent years. Those described as "Narrow Reeds" carried smaller and finer reeds, which were more tightly spaced. The U.S. Mint confirmed the use of two different styles of reeding, but indicated that they should be considered variants rather than errors.
The market price of gold began the year around the $1,200 level and quickly rose to $1,300 before dropping back to $1,150. In July, the price of gold would experience a decline that brought the price below the $1,100 level. Gold closed the year at $1,060 per ounce. The cumulative average price of gold for the year was $1,160.06.
2015 Gold Eagle Specifications
Date: 2015
Mint Mark: none (bullion), W (proof and uncirculated)
Composition: 91.67% gold, 3% silver, 5.33% copper
Weight ($50 Coin): 1.0909 troy oz (33.930 grams)
Diameter ($50 Coin): 1.287 inches (32.7 mm)
Thickness ($50 Coin): 0.113 inches (2.87 mm)
Designers: Augustus Saint-Gaudens (obverse), Miley Busiek (reverse)
2015 Gold Eagle Mintage

Bullion Mintage: 626,500 (1 oz), 75,000 (1/2 oz), 158,000 (1/4 oz), 980,000 (1/10 oz)
Proof Mintage (Last Reported Sales): 32,652 (1 oz), 15,820 (1/2 oz), 15,775 (1/4 oz), 26,769 (1/10 0z)
Burnished Mintage (Last Reported Sales): 6,533

< 2014 Gold Eagle | 2016 Gold Eagle >