Perhaps as a result of the incredible demand for gold bullion experienced during the year, an unusual error or variety coin was created. The 1999-W Gold Eagle Struck with Unfinished Proof Dies (Buy on eBay) were bullion coins that included the "W" mint mark below the date. Although not every collector is aware of these unusual coins, they represent a major rarity within the American Gold Eagle series.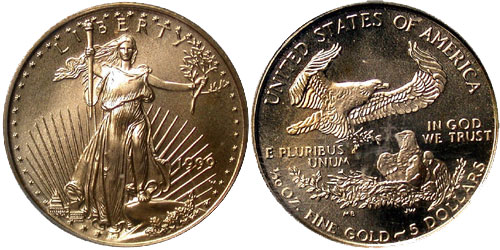 The unusual coins came about after the West Point Mint struck a small number of $5 and $10 American Gold Eagle bullion coins with dies including the "W" mint mark. At the time, the "W" mint mark was only used for Proof Gold Eagles and bullion coins were struck without mintmarks.
It is generally believed that dies intended for striking proof versions of the coin were inadvertently placed into service for bullion coins. These dies did not receiving the final finishing treatment which results in coins struck with a cameo finish, however the coins did include the "W" mint mark. Designation as a variety or error coin, as well as the precise classification for this oddity are still being discussed.
The 1999-W $5 and $10 Gold Eagles Struck with Unfinished Proof Dies were not discovered until early 2000. Subsequent information provided by the United States Mint on die life, suggests that possibly 6,000 of the coins may have been produced for the $5 and $10 Gold Eagles. This assumes that only one die containing the "W" mint mark was used for each denomination. Population reports at the major grading services show far fewer pieces identified. Accordingly, these coins may be a more significant rarity than believed, or some may be residing unknown with bullion holdings assembled in 1999.
< 1999 Gold Eagle | 2000 Gold Eagle >