The 2005 Gold Eagle (Buy on eBay) represented the nineteenth year of the popular gold bullion coin. The United States Mint would release some special sets in the following year to mark the twentieth anniversary. This year, bullion coins were available in the standard one ounce, one-half ounce, one-quarter ounce, and one-tenth ounce sizes. Compared to the prior year, mintages fell for the one ounce and one-half ounce options, but rose for the one-quarter and one-tenth ounce options.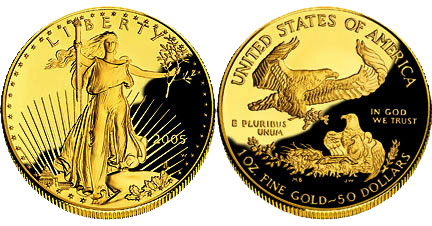 Proof Coin
The U.S. Mint also offered the 2005 Proof Gold Eagle (Buy on eBay) for collectors. These coins were available across the same range of weights with an additional 4 Coin Set available. The coins were offered beginning on January 13, 2005, representing a much earlier in the year than typical. The prices were increased from prior year levels to keep up with the rising price of gold. This was the third consecutive annual pricing increase, as gold's historic run continued.
During 2005, the price of gold traded within a tight range for the first half of the year, before breaking above the established range in the second half. Near the end of the year gold broke above the closely watched $500 per ounce level. For the entire year, the price of gold rose from $427.75 to $513.00 per ounce, achieving an annual gain of more than 20%.
2005 Gold Eagle Specifications
Date: 2005
Mint Mark: none (bullion), W (proof)
Composition: 91.67% gold, 3% silver, 5.33% copper
Weight ($50 Coin): 1.0909 troy oz (33.930 grams)
Diameter ($50 Coin): 1.287 inches (32.7 mm)
Thickness ($50 Coin): 0.113 inches (2.87 mm)
Designers: Augustus Saint-Gaudens (obverse), Miley Busiek (reverse)
2005 Gold Eagle Mintage
Bullion Mintage: 356,555 (1 oz), 80,023 (1/2 oz), 72,015 (1/4 oz), 300,043 (1/10 oz)
Proof Mintage: 35,246 (1 oz), 34,311 (1/2 oz), 37,207 (1/4 oz), 49,265 (1/10 oz)

< 2004 Gold Eagle | 2006 Gold Eagle >