The 1988 Gold Eagle (Buy on eBay) marked the third year of release for the newly issued gold bullion coin series. The coins were struck in a composition of 22 karat gold and featured a classic obverse design by Augustus Saint Gaudens. The United States Mint offered a full range of fractional gold bullion coins including 1 oz, 1/2 oz, 1/4 oz, and 1/10 oz sizes. The mintages for each denomination continued the pattern of declines established in the prior year, as some of the pent up demand for gold investment coins had been fulfilled.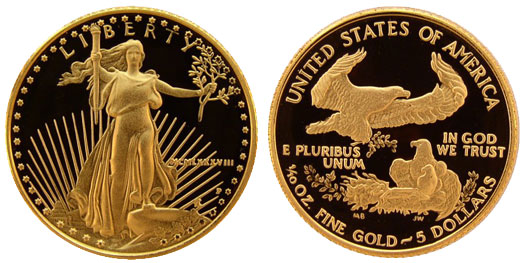 The 1988 Proof Gold Eagle (Buy on eBay) offerings were expanded once again. For the first time, the U.S. Mint offered a full range of fractional denominations for the popular collectible proof gold coins. Added to last year's offerings for 1 oz and 1/2 oz proof coins, were new 1/4 oz and 1/10 oz coins. The U.S. Mint also offered a 4 Coin Proof Set, containing one of each denomination. The fractional denomination proof Gold Eagles were minted in Philadelphia, while the one ounce proof Gold Eagle was minted at West Point.
During 1988, the price of gold sold off steadily from a high of $483 per ounce reached early in the year, to a low of $395 reached in October, before rebounding to end the year at $410.25 per ounce. The average price of gold for the year was $436.98.
1988 Gold Eagle Specifications
Date: MCMLXXXVIII (1988)
Mint Mark: none (bullion), W ($50 proof), P ($25, $10, $5 proof)
Composition: 91.67% gold, 3% silver, 5.33% copper
Weight ($5 Coin): 0.1091 troy oz (3.393 grams)
Diameter ($5 Coin): 0.65 inches (16.5 mm)
Thickness ($5 Coin): 0.049 inches (1.26 mm)
Designers: Augustus Saint-Gaudens (obverse), Miley Busiek (reverse)
1988 Gold Eagle Mintage

Bullion Mintage: 465,500 (1 oz), 45,000 (1/2 oz), 49,000 (1/4 oz), 159,500 (1/10 oz)
Proof Mintage: 87,133 (1 oz), 76,528 (1/2 oz), 98,028 (1/4 oz), 143,881 (1/10 oz)

< 1987 Gold Eagle | 1989 Gold Eagle >