The 1996 Gold Eagle (Buy on eBay) followed the tenth anniversary of the series in the prior year. Mintages moderated, reaching a temporary trough for some bullion denominations. The sales and corresponding mintage for the one-tenth ounce Gold Eagles showed an unusual increase, with nearly twice the number of coins sold compared to the prior year.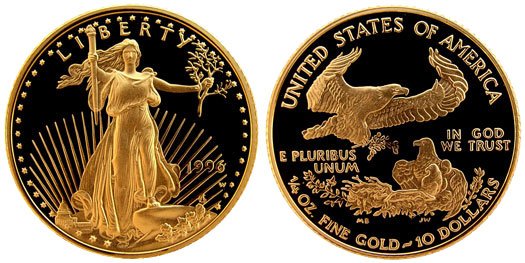 The 1996 Proof Gold Eagle (Buy on eBay) saw mintages decline after the excitement of the 10th Anniversary Gold Eagle Set offering from the prior year. The United States Mint produced their standard line of proof coins for collectors. This included one ounce, one-half ounce, one-quarter ounce, one-tenth ounce individual coins and a complete 4 Coin Set. Although maximum mintage levels were established for each coin, sales failed to reach
During the year the price of gold experienced a brief run from January to early February which brought the price back above the $400 level. After reaching a peak, the price of gold spent the rest of the year in slow decline, closing the year at $369.25 per ounce.
1996 Gold Eagle Specifications
Date: 1996
Mint Mark: none (bullion), W (proof)
Composition: 91.67% gold, 3% silver, 5.33% copper
Weight ($10 Coin): 0.2727 troy oz (8.483 grams)
Diameter ($10 Coin): 0.866 inches (22.0 mm)
Thickness ($10 Coin): 0.070 inches (1.78 mm)
Designers: Augustus Saint-Gaudens (obverse), Miley Busiek (reverse)
1996 Gold Eagle Mintage
Bullion Mintage: 189,148 (1 oz), 39,287 (1/2 oz), 60,318 (1/4 oz), 401,964 (1/10 oz)
Proof Mintage: 36,153 (1 oz), 35,058 (1/2 oz), 38,219 (1/4 oz), 57,047 (1/10 oz)

< 1995 Gold Eagle | 1997 Gold Eagle >