The 2009 Gold Eagle (Buy on eBay) had its product options significantly curtailed from the previous year. Strong worldwide demand for precious metals created sourcing problems for the United States Mint that impacted both bullion and collectible coin offerings.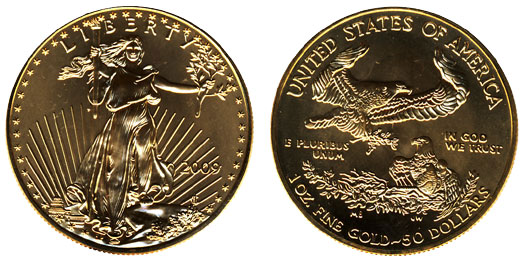 The U.S. Mint offered the one ounce version of the bullion coin throughout most of the year. The offering was subject to order rationing from the beginning of year until June 15, and then once again from December 15 through the end of the year following a brief suspension. The fractional weight 2009 Gold Eagle coins were available briefly during the month of December when the U.S. Mint offered a limited quantity of 1/2 oz, 1/4 oz, and 1/10 oz coins.
Cancellation
In October, the U.S. Mint announced the cancellation of the the planned collectible versions of the 2009 American Gold Eagle. Collectors had been expecting one ounce 2009-W Uncirculated Gold Eagles and a full range of 2009 Proof Gold Eagles. In the same announcement, the US Mint also canceled the collector versions of the 2009 Silver Eagle.
As explanation for the cancellations, the U.S. Mint cited their legal requirement to produce Gold and Silver Eagle bullion coins in quantities sufficient to meet public demand and the lack of a legal mandate to produce collector coins. In accordance with their interpretation of the law, the U.S. Mint continued to source all available 22 karat gold blanks to the production of bullion coins. They stated their intention to work with precious metals blank suppliers to acquire sufficient inventory to produce collector coins for the following year.
During 2009, the price of gold rose from $874.50 to $1,087.50, representing the tenth consecutive annual gain. In early December, the price reached a new all time high at $1,212.50 per ounce.

2009 Gold Eagle Specifications
Date: 2009
Mint Mark: none (bullion)
Composition: 91.67% gold, 3% silver, 5.33% copper
Weight ($50 Coin): 1.0909 troy oz (33.930 grams)
Diameter ($50 Coin): 1.287 inches (32.7 mm)
Thickness ($50 Coin): 0.113 inches (2.87 mm)
Designers: Augustus Saint-Gaudens (obverse), Miley Busiek (reverse)
2009 Gold Eagle Mintage

Bullion Mintage: 1,493,000 (1 oz), 110,000 (1/2 oz), 110,000 (1/4 oz), 270,000 (1/10 oz)
Proof Mintage: not issued
Burnished Mintage: not issued

< 2008 Gold Eagle | 2010 Gold Eagle >