The 1986 Gold Eagle (Buy on eBay) was the inaugural year of the new gold bullion coin series produced by the United States Mint. Even though sales of the bullion coins did not begin until October 1986, the annual total for the year remained the highest on record until 1998. The bullion coins were offered in 1 oz, 1/2 oz, 1/4 oz, and 1/10 oz sizes.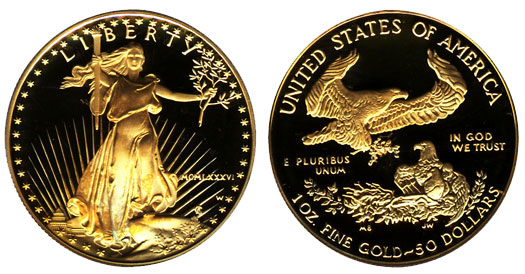 The biggest sellers were the largest and smallest sizes, demonstrating the variety of buyers across investment levels. The high level of sales was attributed to pent up demand for gold bullion. Prior to release, it had been difficult for most Americans to make investments in physical precious metals. Almost overnight, Gold Eagles became the best selling gold coin in the United States.
Proof Coin
In addition to the bullion coins, the U.S. Mint offered the 1986 Proof Gold Eagle (Buy on eBay) for collectors. The proof version of the coin carried the "W" mint mark to denote mintage at the West Point Mint. The coin was offered in one ounce size and sold 446,290 coins. This represents the all time high for the Proof American Gold Eagle sales, which remains to this day. No fractional size Proof Gold Eagles were offered by the U.S. Mint this year.
During 1986, the price of gold started the year at a low of $326.30 per ounce. It closed the year at $396.13 after trading as high as $438.00 in September. The price of gold had spiked just prior to the release of the new American Gold Eagle bullion coins.
1986 Gold Eagle Specifications
Date: MCMLXXXVI (1986)
Mint Mark: none (bullion), W (proof)
Composition: 91.67% gold, 3% silver, 5.33% copper
Weight ($50 Coin): 1.0909 troy oz (33.930 grams)
Diameter ($50 Coin): 1.287 inches (32.7 mm)
Thickness ($50 Coin): 0.113 inches (2.87 mm)
Designers: Augustus Saint-Gaudens (obverse), Miley Busiek (reverse)
1986 Gold Eagle Mintage
Bullion Mintage: 1,362,650 (1 oz), 599,566 (1/2 oz), 726,031 (1/4 oz), 912,609 (1/10 oz)
Proof Mintage: 446,290 (1 oz)