Following the all time highs reached in the prior year, the mintages for 2000 Gold Eagle (Buy on eBay) bullion coins declined significantly for every denomination. With the potential Y2K crisis passed, mainstream interest in precious metals declined from the frenzied levels reached ahead of the new millennium. The biggest decline occurred for the 1/10 oz. Gold Eagle, which saw its mintage fall by roughly 80%.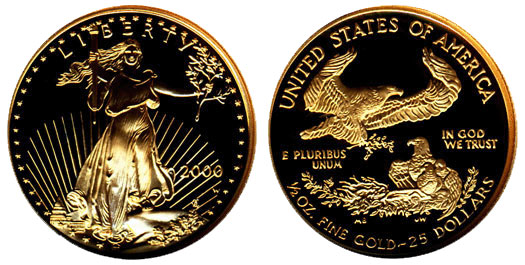 The 2000 Proof Gold Eagle (Buy on eBay) coins actually saw an uptick in interest from the prior year. This may have been spurred by interest in obtaining a collectible coin as a memento from the millennium year. The United States Mint sold the proof Gold Eagles as individual one ounce, one-half ounce, one-quarter ounce, and one-tenth ounce coins, or as a complete four coin set. The products were originally priced at $570, $285, $150, $70, and $999, respectively. The coins were first available for sale on May 10, 2000 and all products sold their established limit by the conclusion of sales.
The price of gold receded to a relatively narrow range in 2000, beginning the year at $282 per ounce and ended the year only slightly lower at $274. The cumulative average price for the year was $279.11.
2000 Gold Eagle Specifications
Date: 2000
Mint Mark: none (bullion), W (proof)
Composition: 91.67% gold, 3% silver, 5.33% copper
Weight ($25 Coin): 0.5454 troy oz (16.965 grams)
Diameter ($25 Coin): 1.063 inches (27.0 mm)
Thickness ($25 Coin): 0.085 inches (2.15 mm)
Designers: Augustus Saint-Gaudens (obverse), Miley Busiek (reverse)
2000 Gold Eagle Mintage

Bullion Mintage: 433,319 (1 oz), 79,287 (1/2 oz), 128,964 (1/4 oz), 569,153 (1/10 oz)
Proof Mintage: 33,007 (1 oz), 32,028 (1/2 oz), 36,036 (1/4 oz), 49,971 (1/10 oz)

< 1999 Gold Eagle | 2001 Gold Eagle >