The 1997 Gold Eagle (Buy on eBay) was released amidst an expansion of the American Eagle bullion program. For the first time the United States Mint produced a platinum bullion coin known as the American Platinum Eagle. This new bullion coin proved popular during the early years of issue until the rising price of platinum started to impact sales.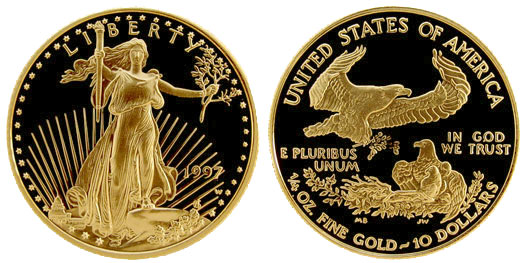 The same line of bullion Gold Eagles were offered along side the new coins. This included the one ounce, one-half ounce, one-quarter ounce, and one-tenth ounce coins. The sale of gold bullion coins experienced increases across the board.
The 1997 Proof Gold Eagle (Buy on eBay) saw mintage figures move in the other direction. Possibly collector funds were being diverted to the new collectible Platinum Eagle offerings which debuted that year. The U.S. Mint offered the same line up of collectible proof Gold Eagles with the addition of a special one year set. The Impressions of Liberty Set was released in 1997 to mark the release of the new platinum coins. Each set contained one ounce proof versions of the Proof 1997 Gold, Silver, and Platinum Eagle Coins. This set sold 4,965 units.
During 1997, the price of gold declined throughout the year. After beginning around the $360 per ounce level, the price experienced a few sharp declines. By the end of the year, the price had fallen to $290.20 per ounce.
1997 Gold Eagle Specifications
Date: 1997
Mint Mark: none (bullion), W (proof)
Composition: 91.67% gold, 3% silver, 5.33% copper
Weight ($10 Coin): 0.2727 troy oz (8.483 grams)
Diameter ($10 Coin): 0.866 inches (22.0 mm)
Thickness ($10 Coin): 0.070 inches (1.78 mm)
Designers: Augustus Saint-Gaudens (obverse), Miley Busiek (reverse)
1997 Gold Eagle Mintage
Bullion Mintage: 664,508 (1 oz), 79,605 (1/2 oz), 108,805 (1/4 oz), 528,515 (1/10 oz)
Proof Mintage: 32,999 (1 oz), 26,344 (1/2 oz), 29,805 (1/4 oz), 34,977 (1/10 oz)

< 1996 Gold Eagle | 1998 Gold Eagle >