A dramatic rise in the levels of gold bullion coin sales began with the 1998 Gold Eagle (Buy on eBay) and would continue into the following year. The increased demand was driven by uncertainty surrounding the approach of Y2K, which caused a renewed interest in previous metals. The mintage for the 1 oz Gold Eagle bullion coin reached the highest annual ever at over 1.4 million coins produced. The 1/10 oz. size coin also experienced particularly strong demand with over 1.3 million coins sold.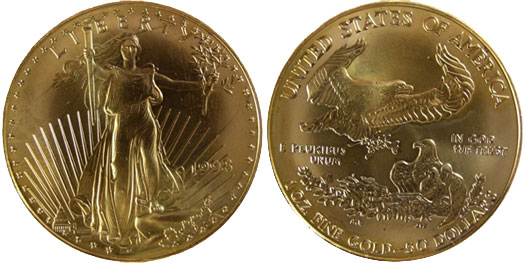 The 1998 Proof Gold Eagles (Buy on eBay) did not experience a rise in demand, but the opposite occurred as mintage sunk. Temporary lows were reached across several denominations. The United States Mint offered these collectible proof bullion coins as individual 1 oz, 1/2 oz, 1/4 oz, and 1/10 oz options, as well as a combined Four Coin Set. As with prior years, these proof coins were produced at the West Point Mint and carried the "W" mint mark.
Despite the higher demand for gold bullion, the price of gold remained relatively flat throughout the year. Gold started out around the $285 level and rose as high as $315 before falling as low as $275. The price finished the year at $287.70 per ounce.
1998 Gold Eagle Specifications
Date: 1998
Mint Mark: none (bullion), W (proof)
Composition: 91.67% gold, 3% silver, 5.33% copper
Weight ($50 Coin): 1.0909 troy oz (33.930 grams)
Diameter ($50 Coin): 1.287 inches (32.7 mm)
Thickness ($50 Coin): 0.113 inches (2.87 mm)
Designers: Augustus Saint-Gaudens (obverse), Miley Busiek (reverse)
1998 Gold Eagle Mintage

Bullion Mintage: 1,468,530 (1 oz), 169,029 (1/2 oz), 309,829 (1/4 oz), 1,344,520 (1/10 oz)
Proof Mintage: 31,427 (1 oz), 30,427 (1/2 oz), 34,417 (1/4 oz), 48,428 (1/10 oz)

< 1997 Gold Eagle | 1999 Gold Eagle >