The 2002 Gold Eagle (Buy on eBay) bullion coins experienced an uptick in interest, amidst strong performance for the price of gold. The one ounce bullion coin saw its mintage increase by more than 50% from the low level of the prior year. The mintage for the 1/2 oz coin also increased, while the 1/4 oz and 1/10 oz denominations fell.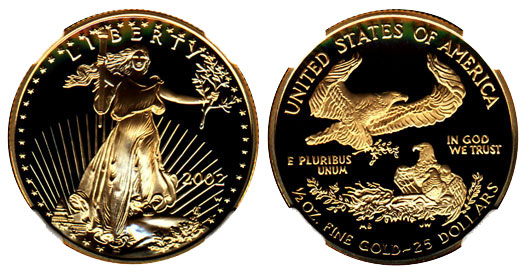 The United States Mint began sales of the 2002 Proof Gold Eagle (Buy on eBay) on June 5, 2002. As with prior years, individual one ounce, one-half ounce, one-quarter ounce, and one-tenth ounce coins were offered, with a separate 4 Coin Set available. All coins were produced at the West Point Mint with the "W" mint mark. The original issue prices were $570, $285, $150, $70, and $999 for each product, respectively. Maximum product limits were in place for the individual and set options. Increased interest in the coins led sales higher across the board.
During 2002, the price of gold broke definitively above the $300 level, beginning the year at $278 per ounce and closing at $347.20. This was the highest price for spot gold seen since 1997. A steady march upwards would continue for many years.
2002 Gold Eagle Specifications
Date: 2002
Mint Mark: none (bullion), W (proof)
Composition: 91.67% gold, 3% silver, 5.33% copper
Weight ($25 Coin): 0.5454 troy oz (16.965 grams)
Diameter ($25 Coin): 1.063 inches (27.0 mm)
Thickness ($25 Coin): 0.085 inches (2.15 mm)
Designers: Augustus Saint-Gaudens (obverse), Miley Busiek (reverse)
2002 Gold Eagle Mintage

Bullion Mintage: 222,029 (1 oz), 70,027 (1/2 oz), 62,027 (1/4 oz), 230,027 (1/10 oz)
Proof Mintage: 27,499 (1 oz), 26,646 (1/2 oz), 29,242 (1/4 oz), 40,864 (1/10 oz)

< 2001 Gold Eagle | 2003 Gold Eagle >