Sales for the 2014 American Gold Eagle (Buy on eBay) bullion coins opened on January 2, 2014. On this date, the United States Mint began accepting orders from their network of authorized purchasers for the one ounce as well as fractional weight 22 karat gold bullion coins.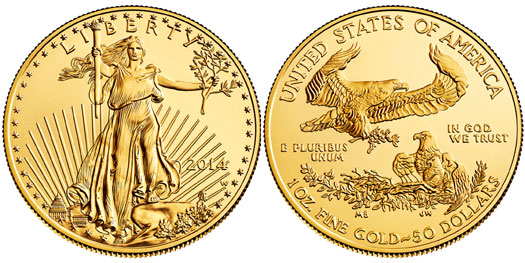 Opening sales levels fell short of the prior year. For the month of January, sales measured 91,500 ounces, down by 39% compared to the year ago period when sales had reached 150,000 ounces. In the ensuing months, sales continued to progress a slower pace compared to the prior year with a decline of more than 50% seen during the first quarter. Although the pace of sales picked up somewhat, bullion sales would measure 524,000 ounces for the full year, representing a year over year decline of 38.8%.
Proof Coin
On April 3, 2014, the U.S. Mint began sales of the 2014 Proof Gold Eagles (Buy on eBay). This represented the long running traditional numismatic version of the coin, offered individually across four different sizes or within a four coin set. Product limits were established for each option, which also served to create maximum mintage levels. The initial price levels were $200 per ounce lower compared to the prior year, which seemed to contribute to a stronger opening.
A mildly stronger pace of sales ensued for much of the course of the offering. In December, the individual one-quarter ounce and one-half ounce versions were declared sold out. Shortly thereafter, the remaining options went out of stock. The last reported sales figures suggest mintages mildly above the prior year levels.
Uncirculated Coin
On May 22, 2014, the U.S. Mint opened sales for the 2014-W Uncirculated Gold Eagle (Buy on eBay). Available in one ounce size only, this represented a more recently established numismatic offering. The coins are struck on specially burnished blanks creating a finish similar to the bullion counterpart. To more clearly differentiate the numismatic coins, the "W" mint mark appears on the obverse, while bullion coins do not carry a mint mark.
The issue went out of stock on the U.S. Mint's website by late in the year. The last reported sales figures suggest a mintage slightly ahead of the prior year, attesting to the overall increase in demand for numismatic gold products.
After the prior year decline, the market price of gold began the year around the $1,225 level and over the next few months rose to a peak of $1,385. The price then fell back to around $1,250, retraced upwards to $1,350, and then spent the rest of the year in decline. The closing price for the year was $1,206 per ounce, representing the second annual decline for the precious metal.
2014 Gold Eagle Specifications
Date: 2014
Mint Mark: none (bullion), W (proof and uncirculated)
Composition: 91.67% gold, 3% silver, 5.33% copper
Weight ($50 Coin): 1.0909 troy oz (33.930 grams)
Diameter ($50 Coin): 1.287 inches (32.7 mm)
Thickness ($50 Coin): 0.113 inches (2.87 mm)
Designers: Augustus Saint-Gaudens (obverse), Miley Busiek (reverse)
2014 Gold Eagle Mintage

Bullion Mintage: 425,000 (1 oz), 35,000 (1/2 oz), 90,000 (1/4 oz), 545,000 (1/10 oz)
Proof Mintage (Last Reported Sales): 28,703 (1 oz), 14,693 (1/2 oz), 14,790 (1/4 oz), 22,725 (1/10 oz)
Burnished Mintage (Last Reported Sales): 7,902

< 2013 Gold Eagle | 2015 Gold Eagle >