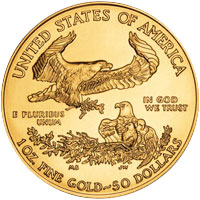 Gold Eagle Guide is a place for you to find information about American Gold Eagles. This includes bullion versions of the coins as well as the collectible proof and uncirculated versions.
The bullion and proof versions of the coin were first issued in 1986. There was immediate and significant demand for the new coins, which featured Augustus Saint-Gauden's class depiction of Liberty and a family of eagles. A variety of bullion weights and collector offerings made the coins relevant for a large cross section of individuals. The Gold Eagle can be purchased for investment purposes, purchased for a retirement account, or added to a collection of coins.
During the past thirty years, the popularity of the coin has endured, through special issue anniversary coins, bullion shortages, and periodic coin rationing. The story of the American Gold Eagle continues to evolve.
The site includes images of coins for each year, as well as mintages, coin specifications, and notes. While a great deal of care goes into compiling accurate and timely information, we cannot be held responsible for inaccuracies or out of date information.